I'm late to reminisce on 2011 due to all the stuff that went down in December, but I thought I would share a few of my favorite things from the previous year. Over the next few days I will be posting my favorite things from 2011.
My Top Three Movies
I usually do a top five, but this year felt like a barren wasteland when it came to movies. I'm sure there were some other awesome movies out there in 2011, but I just didn't see them. Feel free to make referrals though!
Here are my top three films I saw in the theater in 2011.
3.
Thor
I went into this movie expecting absolutely nothing. I figured at most there would be pretty special effects. Instead, Kenneth Branagh really did a great job with the script, the casting and the awesome special effects. I've seen the movie twice now and enjoyed it even more the second time. The acting performances in this movie are excellent. Chris Hemsworth was such a wise choice as Thor. I enjoyed the character's evolution throughout the film. But then again, this is the same actor who made me cry during the opening sequence of 2009's
Star Trek
. But the real star of the movie for me was not Anthony Hopkins or Chris, but Tom Hiddleston as Loki. He was mind-blowingly good. Kenneth Branagh is a Shakespearn actor/director and at times the movie had the feel of one of those old Shakespeare tragedies especially when Anthony Hopkins and Tom Hiddleston were on the screen.
2.
The X-Men First Class
Yeah, I'm shocked another superhero movie is on my list, too. After the horrible third X-Men film, I really didn't expect much from this film at all. In fact I didn't go see it until it was at the discount theater. Just as with Thor, I was completely surprised. I'm a huge fan of James McAvoy, but it was Michael Fassbender as Magneto that really just blew me away. I loved the retro time period, the development (and the disintegration) of Xavier's and Erik's friendship, the exciting plot line and awesome powers of the mutants. This was everything an X-Men movie should be and more. I ended up seeing the movie twice in the theater. I rarely do that.
1.
The Girl With the Dragon Tattoo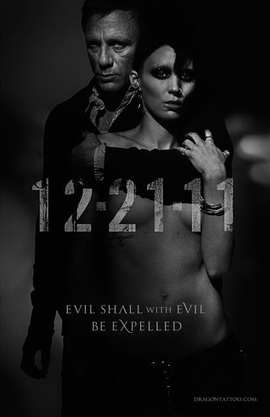 Last year my favorite movie was
Black Swan
. This year it is another film about a complicated young woman struggling to overcome her past. Rooney Mara is mind-blowing as Lisbeth. I was completely and totally emotionally invested in her as a character. I also enjoyed the mystery that is the backbone of the movie and its eventual resolution. Director David Fincher always delivers great, thought-provoking movies (
Fight Club
comes to mind) and he did not disappoint. Daniel Craig is always good in every movie he is in, but Rooney Mara disappears into Lisbeth. I rarely walk out of a theater thinking, "I wish I had created that character!" After watching
The Girl with the Dragon Tattoo
, I found myself thinking exactly that. I plan to go see this in the theater one more time, then I'll buy it on Blu-ray.